How the Swedish Celebrate Midsummer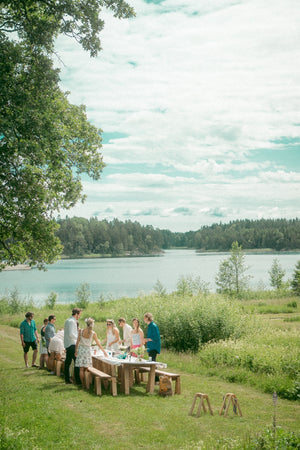 The Summer Solstice is celebrated the world round, but no one honours this cherished tradition quite like the Swedish. Steeped in folklore and culture, Midsummer is a never-ending lunch party that involves delicious food, dancing around a pole and singing songs. Everyone is welcome to join in the fun, but if you don't find yourself in Sweden this Midsummer, why not organise your own celebration a little closer to home!
When is Midsummer?
Midsummer is celebrated between 19th and 25th June every year.
 Why is Midsummer celebrated?
With Midsummer being the longest day of the year, it was often considered a magical night to the agrarian society within Sweden. Full of mystery and enchantment, it's believed to be a time when plants gained healing powers and were used to predict the future. When walking barefoot, as night turned to dawn encouraged natural healing and when wearing a wreath of flowers in your hair was a symbol of rebirth and fertility.  Today, it is more about celebrating the beginning of Summer and the good times ahead.
Photo Credit: Anna Hållams-imagebank.sweden.se
What to serve?
 Like all major holidays, Midsummer revolves around sharing food and drinks with loved ones. In a nutshell, the Midsummer fare consists of a few must haves; pickled herring served with fresh potatoes (aka 'färskpotatis' cooked with dill) as well as sweet strawberries and schnapps or Aquavit – experience the taste of a Swedish Summer!
Photo Credit: Vilhelm Stokstad-imagebank.sweden.se
Midsummer Traditions
 Everyone has their own Midsummer traditions, but many stick to the more traditional options when it comes to celebrating. For a grand Midsummer lunch-party, no celebration would be complete without dancing with flowers in your hair, singing songs, all whilst feasting on a delectable selection of Swedish dishes.
Towards the latter part of the Middle Ages, a new form of celebrating Midsummer emerged with the raising of a pole which was then danced around. This lovely tradition is still very much a part of Midsummer celebrations with the maypole decorated in garlands of leaves and fresh flowers.
After devouring the Midsummer feast, it is time to play some games. Children and adults alike can get involved in 'femkamp'. Classic garden lawn games such as croquet and 'kubb' -  a popular game involving wooden blocks and sticks, are the perfect way to spend time with family.
Where to Celebrate?
Midsummer is a celebration of nature and as such, it is best experienced outdoors. Gather your friends and family and head to a local park, field or back garden, or if you are craving some alone time, grab an eye pillow and head outdoors to relax and take in the heady scent of Summer.  If you are lucky enough to be heading to Sweden for Midsummer, Visit Sweden have numerous suggestions on the best places to celebrate.